ERREVO® ZERO Ergonomic Full Black Mesh Chair with unique Back Automatic Supporting (BAS) System that provides a full range of back & waist support and comfortable sitting experience.
ERREVO ZERO Ergonomic Computer Full Black Mesh Office Chair with unique Back Automatic Supporting (BAS) System that adjusts itself to the user's shape in order to provide perfect lumbar support from the moment they hit the seat.
    
Options:
Shell: Black
Aluminum Frame: Polished
Upholstery: Mesh Back / Mesh Seat
Armrests: 4D Adjustable
Headrest: 3D Adjustable
Lumbar Support: (BAS) System
Castors: Soft.
              
ZERO Chair Comfortable Seating Features:
1. Back Automatic Supporting (BAS) System
BAS System gives your back comfortable support.
For users, when you work and sit for a long time, the most stressful part of your body is your waist.
Long-term stress can lead to lumbar disc herniation and other occupational diseases.
The backrest has two parts with intelligent elastic rotation device on the connection of its parts.
The upper part can rotate within 10° and the lower part can rotate within 15°, without any adjustment, to automatically fit different people's weight, shape, sitting posture and tilting angle.
Most importantly, it will help your back always attach on the chair backrest, give you a full and comfortable back & waist supporting.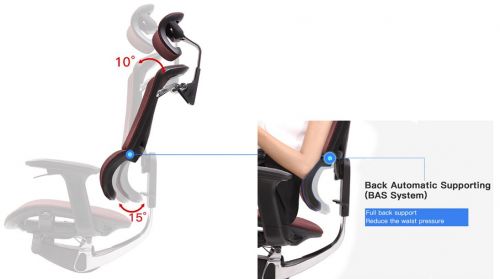 2. Muti-lock Sync-mechanism
Muti-lock Sync-mechanism with 2.5mm high quality cold rolling steel plate ramming formation and die-cast aluminium alloy.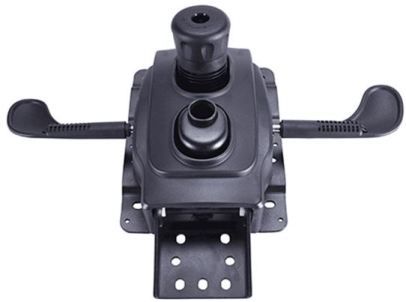 3. Seat Heihgt Adjustment
The seat height can be adjusted within 9cm.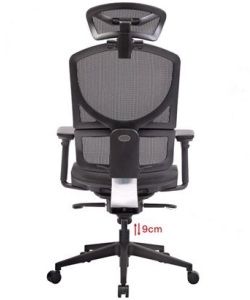 4. Reclining Position Lock
The backrest tilt angel can be adjusted within 24° in 4 different levels by the knob under the right side of the seat.
You can choose either free rocking or your favorite angle.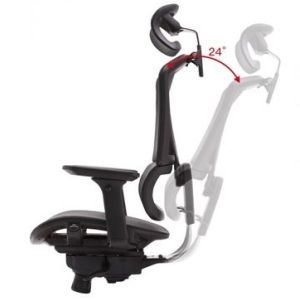 5. Title Tension Adjustment
The backrest tilt tension can be adjust by the knob under the seat. It enables you to set the reclining resistance to meet your body shape and posture.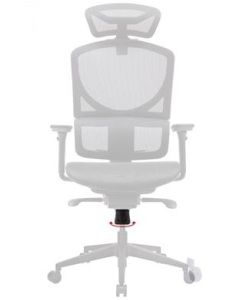 6. Seat Depth Adjustment
The seat depth can be adjusted for 5 positions within 40mm by pressing the button on the left side of the seat.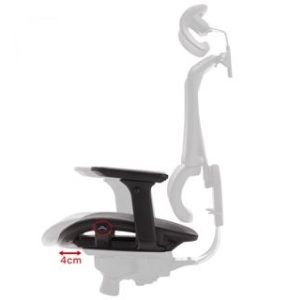 7. Back Height Adjustment
The backrest slider is made by 15mm thickness polished aluminum alloy, which can be adjusted in 4 different levels within 4 cm, and it can fit and help relax for different height of users.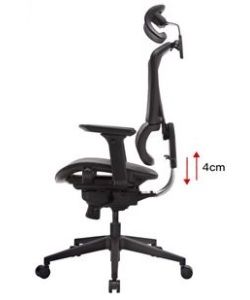 8. 4D Adjustable Armrests
With super width soft PU cover.
1D. The armrest height can be adjusted in 6 levels within 7cm in cyclic structure. When the armrest goes to the highest position, it goes to its original position.
2D. The PU cover Armrest can pivot within 30°.
3D. The armrest cover can move back and forward.
4D. The width is also adjustable.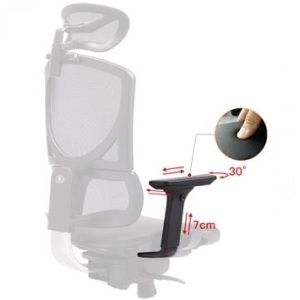 9. Adjustable Headrest
- 5 levels height adjustment.
- Ergonomic design surface offering 45° rotation.
- Adjustable angels with 35°, the headrest offers full support for your neck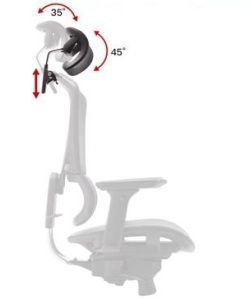 10. Customized Five Star Base Sleeve for Gas Lift
When you tilt the chair back of an ordinary chair, you may hear noise from the gas lift, this is caused by a mismatch between the five star base and the gas lift. So we add a customized base sleeve to avoid the noise, also protect the appearance of the gas lift.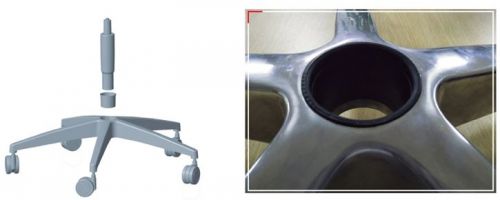 11. Silent Casters
Casters are equipped with noise reducing caps between the hole of base and caster, avoid the noise caused by aluminum friction.



12. Premium Breathable Mesh
The mesh is made by Wintex high quality materials, with good hand feeling, air permeability and elasticity.
The mesh is with 3 layers, Polyester fibre, Dupont yarn and Polyester fibre, which offer better sitting experience to users.